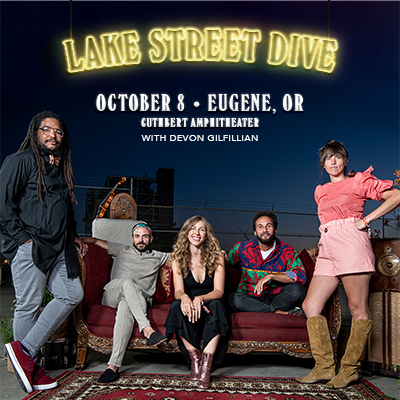 Produced by: Kesey Enterprises, Double Tee Concerts
Support: Devon Gilfillian
Date: Saturday, October 8, 2022
Event Type: Reserved Seating, General Admission Lawn, All Ages
Gates Open at: 5:30 pm
Show Starts at: 7 pm
Tickets: All ages advance tickets are general admission and available Friday, June 17 at 10am for $65 to premium seats beginning directly in front of the stage, $50 for seats behind the first section, and $35.50 for general admission lawn, online at TicketsWest.
Unless sold out, tickets will also be available at the The Cuthbert Amphitheater Box Office on the day of the show for $50 beginning at 5:30 p.m. when the Box Office opens.
The general admission concert is open to everyone of all ages.
All tickets subject to service charges and /or user fees.
As a band, Lake Street Dive epitomizes democracy in action: the group, expanded into a quintet since touring keyboardist Akie Bermiss officially joined in 2017, share writing and arrangement duties. Their personalities, skills, and wide-ranging taste in pop, rock, R&B, and jazz have long blended together to make an impressively cohesive sound, both sophisticated and playful, combining retro influences with contemporary attitude. On its most recent Nonesuch album, 2018's Free Yourself Up, the band even produced the record itself.
But, after being on the road for nearly eighteen months since that album, the band members decided they could use some outside help. They had been writing, swapping demos, and rehearsing before and after soundchecks or in backstage green rooms and had amassed a wealth of new material, full songs, and sketches. With more than three dozen new songs and the desire to make a concise, vinyl-length album, they turned to Mike Elizondo, the producer-songwriter-multi- instrumentalist whom Lake Street Dive fans might remember as music director of Chris Thile's public radio series, Live From Here. The Grammy Award-winning Elizondo is perhaps best known as a songwriting collaborator of Dr. Dre, Eminem, and 50 Cent, but he has also served as a record producer for Fiona Apple, Mary J. Blige, Carrie Underwood, and 21 Pilots, among many others. He is as conversant in jazz as in rock, country, bluegrass, and hip hop—exactly the sort of genre-juggling guy who would appreciate Lake Street Dive's own versatility.