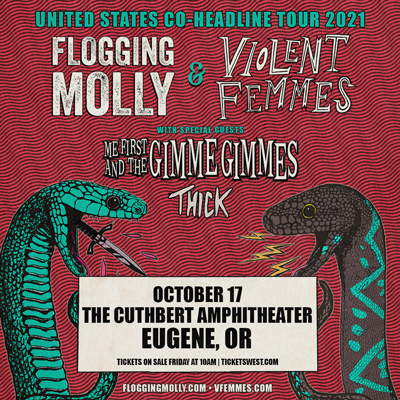 Produced by: Kesey Enterprises, Double Tee Concerts
Support: Me First and the Gimme Gimmes, Thick
Date: Sunday, October 17, 2021
Event type: General Admission, All Ages
Gates open at: 4 p.m.
Show starts at: 5:30 p.m.
Tickets: All ages advance tickets are general admission and available Friday, June 25 at 10am for $45 online at TicketsWest.
Unless sold out, tickets will also be available at The Cuthbert Amphitheater Box Office on the day of the show for $50 beginning at 3 p.m when the Box Office opens.
The general admission concert is open to everyone of all ages. All tickets subject to service charges and /or user fees.
Los Angeles-based seven-piece Flogging Molly are an interesting mix of traditional Irish music and spunky punk rock. Former Fastway acoustic guitarist/frontman and Dublin native Dave King formed the band with fiddle player Bridget Regan, guitarist Dennis Casey, accordion player (and former pro skateboarder) Matt Hensley, bassist Nathen Maxwell, drummer George Schwindt, and mandolinist Bob Schmidt. Getting their start playing regularly at the L.A. bar Molly Malones, Flogging Molly eventually took their music to the road; their explosive and passionate live show was the heart of the band, after all, and they toured relentlessly around the world throughout their career. Their rowdy folk-rock punk revival sound has been compared to the likes of other Irish bands such as the Pogues and Black 47, but the raucous septet opted for its own unique brashness that defied genre lines.
The textbook American cult band of the 1980s, the Violent Femmes captured the essence of teen angst with remarkable precision; raw and jittery, the trio's music found little commercial success but nonetheless emerged as the soundtrack for the lives of troubled adolescents the world over. Their self-titled 1983 debut was a blueprint for legions of sardonic alternative rockers that would follow, and they continued their blend of searing, darkly humorous lyrics and sharp-edged folk-rock on other standout albums like 1991's Why Do Birds Sing?