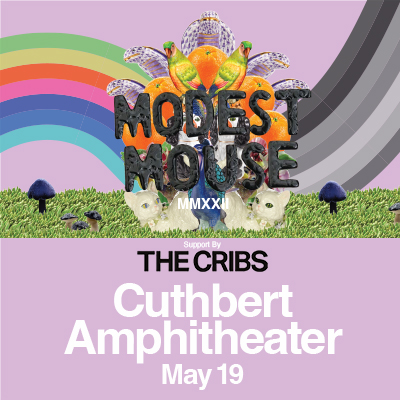 Produced by: Kesey Enterprises, Double Tee Concerts
Support: The Cribs
Date: Thursday, May 19, 2022
Event Type: General Admission, All Ages
Gates Open at: 5:30 pm
Show Starts at: 7 pm
Tickets: All ages advance tickets are general admission and available now for $45 online at TicketsWest.
Unless sold out, tickets will also be available at the The Cuthbert Amphitheater Box Office on the day of the show for $50 beginning at 5:30 p.m. when the Box Office opens.
The general admission concert is open to everyone of all ages.
All tickets subject to service charges and /or user fees.
Over the past quarter century, Modest Mouse frontman Isaac Brock has served as indie rock's resident backwoods philosopher, pondering his infinitesimal place in the world at large and seeking balance in a universe governed by polar opposites. On Modest Mouse's earliest records, he was surveying the changes in the world's physical landscape from the windows of the tour van, lamenting the displacement of natural beauty with big-box blights.
The Golden Casket, the band's seventh-studio album, is exploring the degradation of America's psychic landscape through the glass of the smartphone screen. Throughout the record, you'll pick up on all sorts of references to cellular devices, hashtags, computers, texting, and online dating culture. But this is no typical Luddite's manifesto decrying iPhone addiction, disinformation overload, or how social media is destroying political discourse. The album is, however, very interested in the invisible technology that's allowed all of that to happen: the cellular signals, radio frequencies, and WiFi waves that are likely beaming through your body as you read this.
"Everything is giving off a frequency," Isaac observes. "Everything is vibrating whether you know it or not. We're swimming in some crazy shit right now—it isn't visible, but it's real. I think everyone's minds are getting a little scrambled right now. And I feel it every fucking day."