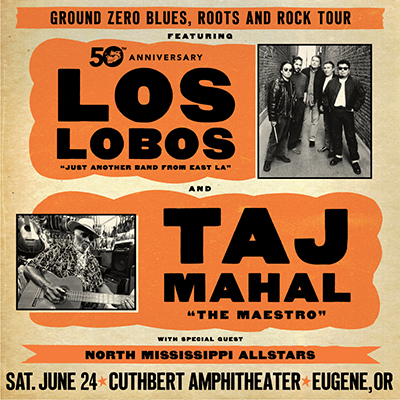 Produced by: Kesey Enterprises, Double Tee Concerts
Date: Saturday, June 24, 2023
Support: North Mississippi Allstars
Event Type: Reserved Seating, General Admission Lawn, All Ages
Gates Open at: 5 pm
Show Starts at: 6:30 pm
Tickets: All ages advance tickets are reserved seating for from $60 to $80 depending on seat location, and general admission lawn for $40, available Friday, March 3 at 10am online at Cascade Ticketing.
Unless sold out, tickets will also be available at The Cuthbert Amphitheater Box Office on the day of the show beginning at 4 p.m. when the Box Office opens.
The reserved seating, general admission lawn concert is open to everyone of all ages.
All tickets subject to service charges and /or user fees.
The journey of Los Lobos began in 1973, 50 years ago this year, when David Hidalgo (vocals, guitar, and pretty much anything with strings), Louie Perez (drums, vocals, guitar), Cesar Rosas (vocals, guitar), and Conrad Lozano (bass, vocals, guitarrón) earned their stripes playing revved-up versions of Mexican folk music in restaurants and at parties. The band evolved in the 1980s as it tapped into L.A.'s burgeoning punk and college rock scenes. They were soon sharing bills with bands like the Circle Jerks, Public Image Ltd. and the Blasters, whose saxophonist, Steve Berlin, would eventually leave the group to join Los Lobos in 1984.
Early on, Los Lobos enjoyed critical success, winning the Grammy® for Best Mexican-American Performance for "Anselma" from its 1983 EP …And a Time to Dance. A year later, the group released its full-length, major-label debut, How Will the Wolf Survive? Co-produced by Berlin and T Bone Burnett, the album was a college rock sensation that helped Los Lobos tie with Bruce Springsteen as Rolling Stone's Artist of the Year.
Taj Mahal doesn't wait for permission. If a sound intrigues him, he sets out to make it. If origins mystify him, he moves to trace them. If rules get in his way, he unapologetically breaks them. To Taj, convention means nothing, but traditions are holy. He has pushed music and culture forward, all while looking lovingly back.
"I just want to be able to make the music that I'm hearing come to me––and that's what I did," Taj says. The 76-year-old is home in Berkeley, reflecting on six decades of music making. "When I say, 'I did,' I'm not coming from the ego. The music comes from somewhere. You're just the conduit it comes through. You're there to receive the gift."
Taj is a towering musical figure––a legend who transcended the blues not by leaving them behind, but by revealing their magnificent scope to the world. "The blues is bigger than most people think," he says. "You could hear Mozart play the blues. It might be more like a lament. It might be more melancholy. But I'm going to tell you: the blues is in there."
Nothing runs deeper than family ties. Brothers, sisters, fathers, mothers, sons, and daughters understand one another at the purest level. When families rally around music, they speak this oft-unspoken bond aloud and into existence. After 25 years, twelve albums, four GRAMMY® Award nominations, and sold out shows everywhere, North Mississippi Allstars open up their world once again on their thirteenth album, Set Sail [New West Records], welcoming other family (by blood and by the road) into the fold. As legend has it, Luther and Cody Dickinson started the band in 1996 as a loose collective of like-minded second-generation musicians who shared a local repertoire and regional style. Over the years, the lineup shifted by design, and each subsequent record offered up a different combination of collaborators. This time around, they mined the talents of Jesse Williams on bass and Lamar Williams, JR. on vocals. During the Allman Betts Band Family Revival, the Dickinsons first linked up with Lamar, son of the Allman Brothers bassist Lamar Williams, Sr., becoming fast friends and collaborators and eventually paving the way for Set Sail.