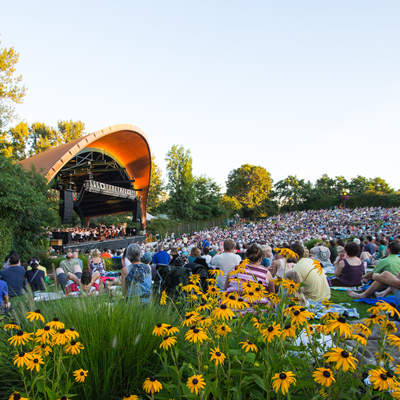 Produced by: Kesey Enterprises, Double Tee Concerts, City of Eugene, Eugene Symphony Association
Date: Sunday, July 31, 2022
Event type: General Admission, All Ages, VIP
Gates open at: tbd
VIP gates open at: tbd
Show starts at: tbd
Tickets: All ages FREE advance tickets are general admission seated with VIP Tickets available Tuesday, July 5 at 10am and Public General Admission Tickets available Tuesday, July 5 at 10 a.m. online at TicketsWest.
Unless sold out, tickets will also be available at The Cuthbert Amphitheater Box Office on the day of the show beginning at 5 p.m. when the Box Office opens.
The general admission concert is open to everyone of all ages.
All tickets subject to service charges and /or user fees.
Join us later this summer for the annual Symphony in the Park concert series! We will start in Eugene on Sunday, July 31, at the Cuthbert Amphitheater. Tickets are free, but required, for this event and will be available for reservation on July 5 through Tickets West (not the Hult Center!).
Now in its 57th season, the Eugene Symphony is recognized as a cornerstone of the performing arts in Oregon's southern Willamette Valley. Under the leadership of Music Director and Conductor Francesco Lecce-Chong, the Eugene Symphony pursues its mission of enriching lives through the power of music by presenting annual classical, pops and community engagement performances, regularly commissioning and premiering new American works, and disseminating its performances via radio broadcasts and recordings. Amid the COVID-19 pandemic, Eugene Symphony continues to serve its mission through reimagined concert experiences and programs. Learn more about our virtual programs​.
As a guiding principle, the Eugene Symphony is committed to serving, educating and developing the widest possible regional audience through its programs. Each season, both in the concert hall and beyond in classrooms and the community, Eugene Symphony brings world-class artistry and memorable musical moments to more than 40,000 people throughout a five-county region in southwestern Oregon. Founded in 1965 as a community orchestra, Eugene Symphony's early years included performances in living rooms, schools and churches. The orchestra took up residence in Eugene's Hult Center for the Performing Arts in 1982 and has since performed with the likes of violinist Itzhak Perlman, cellist Yo-Yo Ma, soprano Renee Fleming, Portland's treasured Pink Martini, and most recently, Broadway superstar Leslie Odom, Jr. No matter the program, the Eugene Symphony invites people of all ages and backgrounds together for the irreplaceable experience of live orchestral music.