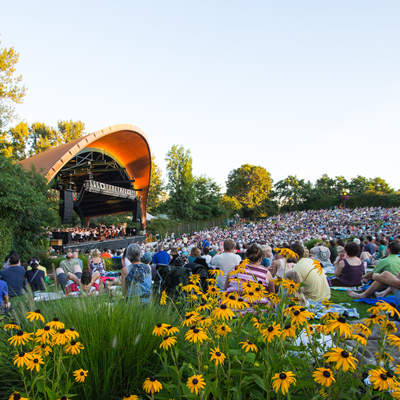 Produced by: Kesey Enterprises, Double Tee Concerts, City of Eugene, Eugene Symphony Association
Date: Saturday, July 24, 2021
Event type: General Admission, All Ages
Gates open at: 6:30 p.m.
VIP gates open at: 6 p.m.
Show starts at: 8 p.m. (Marimba starts at 6:45 p.m.)
Tickets: All ages FREE advance tickets are general admission seated with VIP Tickets available Tuesday, July 6 at 10am and Public General Admission Tickets available Friday, July 9 at 10 a.m. online at TicketsWest.
Unless sold out, tickets will also be available at The Cuthbert Amphitheater Box Office on the day of the show beginning at 5 p.m when the Box Office opens.
The general admission concert is open to everyone of all ages. All tickets subject to service charges and /or user fees.
The Eugene Symphony Association, in partnership with Kesey Enterprises Inc. and the City of Eugene, is pleased to bring Eugene Symphony in the Park, its annual free outdoor summer concert series, back to the community following last year's intermission caused by the COVID-19 pandemic. The orchestra will perform at the Cuthbert Amphitheater on Saturday, July 24 at 8 p.m. and at Bohemia Park in Cottage Grove on Monday, July 26 at 7:30 p.m. This year will mark the 12th performance at Cuthbert Amphitheater and the 6th performance at Bohemia Park.
Capacity will be limited at Cuthbert Amphitheater and tickets will be required for all attendees. Tickets will be available to the public on a first-come, first-served basis. More details to be announced soon. Tickets are not required for the Bohemia Park performance.
At both venues, Music Director & Conductor Francesco Lecce-Chong will lead the orchestra in a family-friendly program that includes well-known classics, works by living composers, and film score music. The program will also include guest vocalist and Eugene native, Evynne Hollens.
"I cannot think of a better way to return to full orchestral performances than by gathering with friends, family, colleagues, and music-lovers of all ages at the Cuthbert for one of the most beloved Eugene Symphony traditions," says Music Director & Conductor Francesco Lecce-Chong. "We'll celebrate with grand orchestral classics, musicals, film scores, and dance music – something for everyone!"
Concert program (subject to change)
arr. Carmen Dragon: America the Beautiful (sing-along)
Arturo Marquez: Danzon No. 2
Scott Joplin: The Entertainer
Gabriela Lena Frank: Mestizo Waltz
Edward Elgar: Nimrod
Pyotr Tchaikovsky: 1812 Overture
Plus music featuring guest vocalist Evynne Hollens