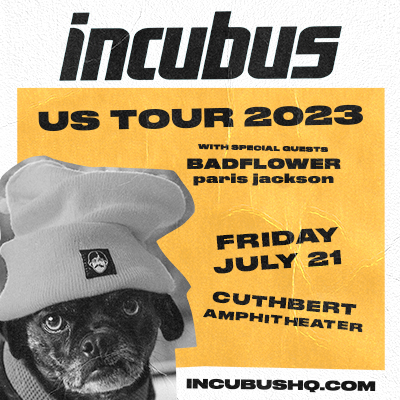 Produced by: KEI, Double Tee Concerts, Mammoth NW
Support: Badflower, paris jackson
Date: Friday, July 21, 2023
Event type: Reserved Seating, General Admission Lawn, All Ages
Gates open at: 5 p.m.
Show starts at: 6:30 p.m.
Tickets: All ages advance tickets are reserved seating for from $99 to $150 depending on seat location, and general admission lawn for $49.50, available now online at Cascade Ticketing.
Unless sold out, tickets will also be available at The Cuthbert Amphitheater Box Office on the day of the show beginning at 4 p.m. when the Box Office opens.
The reserved seating, general admission lawn concert is open to everyone of all ages. 
All tickets subject to service charges and /or user fees.
Incubus became one of the most popular alt-metal bands of the new millennium, setting themselves apart from a crowded field with a tireless touring ethic and a broad musical palette. Employing a versatile blend of heavy metal, funk, jazz, hip-hop, techno, post-grunge, and alternative rock, the band hit the mainstream in 1999 with their multi-platinum third album, Make Yourself, which featured the chart-topping single "Drive." They continued their reign over the ensuing decade, issuing a string of gold- and platinum-selling records: Morning View (2001), A Crow Left of the Murder… (2004), and Light Grenades (2006), culminating in the release of a greatest-hits LP in 2009. Incubus spent the next decade focusing on playing live but also issued two more studio albums (2011's If Not Now, When? and 2017's 8) plus a handful of singles and EPs that continued to expand their sonic oeuvre.
Los Angeles hard rock outfit Badflower brought grit and swagger inspired by the Sunset Strip when they made their debut in 2013. Armed with dark anthems that often grappled with themes like addiction, pain, and mental illness, they earned their first modern rock radio hit with "Ghost" in 2018. Their debut, OK, I'm Sick, arrived in early 2019 on Big Machine, topping the U.S. Heatseekers chart. Two years later, they returned with their sophomore effort This Is How the World Ends.
Born into a family with a hefty musical legacy, Californian model, actress, and musician Paris Jackson stepped out from the shadow cast by her father's presence, pursuing musical styles hitherto unexplored by the Jackson family. Influenced in part by grunge, punk, and heavy metal, the daughter of Michael Jackson veered away from the pop and R&B sounds that made him an icon, delving deep to produce folk- and rock-inspired music filled with introspective lyrics. In the late 2010s, in addition to forming the duo the Soundflowers, she made her solo debut with the song "Let Down" from her first album, Wilted.