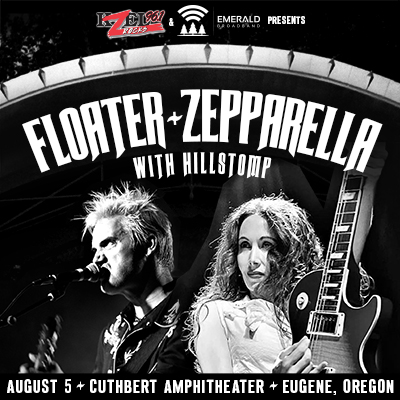 Produced by: Kesey Enterprises, Double Tee Concerts, Mammoth NW
Date: Saturday, August 5, 2023
Support: Hillstomp
Event Type: General Admission, All Ages
Gates Open at: 5 pm
Show Starts at: 6:30 pm
Tickets: All ages advance tickets are general admission free roaming and available now for $29.50 online at Cascade Tickets.
Unless sold out, tickets will also be available at The Cuthbert Amphitheater Box Office on the day of the show beginning at 4 p.m. when the Box Office opens for $34.50.
The general admission free roaming concert is open to everyone of all ages. 
All tickets subject to service charges and /or user fees.
The art-metal trio FLOATER was formed in 1993 by singer/bassist Robert Wynia and drummer Peter Cornett, who'd previously teamed in the group Henry's Child; recruiting guitarist David Amador, they quickly recorded a six-song demo that caught the attention of indie label Elemental, releasing their debut LP Sink in 1994. Glyph followed a year later, notching a major local hit with "The Sad Ballad of Danny Boy"; production issues delayed the release of Floater's third album 1998's Angels in the Flesh and Devils in the Bone, and a year later the group released a live record, The Great Release.
Drummer Clementine is the founding member of ZEPPARELLA. From the beginning of her musical career, her goal has been to be onstage every night. The pursuit of that goal has led Clementine to constantly tour the US and Europe in projects as diverse as Bottom, AC/DShe, The House Of More, The Solid, Francis Bakin, Stars Turn Me On and Beaux Cheveux. It was under the tutelage of classical guitarist Phillip DeFremery, a student of Andrés Segovia, that guitarist Gretchen Menn began her path on the instrument. Playing with tireless passion and constantly seeking out new challenges, her projects are often unconventional, genre-bending expressions combining elements of classical, rock, progressive, jazz, and metal. Bassist Holly West began her musical journey full-steam ahead, and more recently than her stellar playing belies. Her unstoppable will and drive have truly propelled her to this moment and her place in the powerhouse Zepparella. Singer Anna Kristina is a soulful, fiery, and rocking vocal powerhouse who has stepped into Zepparella's Plant spot for a second time. Anna was with the band for 5 years, became known for her performance in the band's 15 million-view "When The Levee Breaks" video, took a 6-year hiatus, and now returns in 2018 to front the band.
HILLSTOMP is infamous for digging through the dumps and forgotten backwoods of American music, recycling traditional elements into a refreshing and distinctive brand of do-it-yourself hill country blues stomp. North Mississippi trance blues, a bit of Appalachia, and a dash of punkabilly come clanging and tumbling from assorted buckets, cans and BBQ lids, all drenched in rambunctious slide guitar. Somehow it works. Despite their homemade instruments and novel approach, Hillstomp is no novelty act.