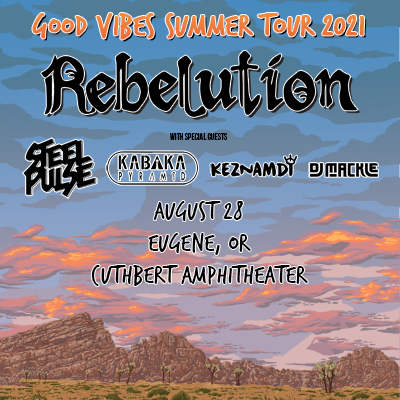 Produced by: KEI, Double Tee Concerts
Support: Steel Pulse, Kabaka Pyramid, Keznamdi, DJ Mackle
Date: Saturday, August 28, 2021
Event type: General Admission, All Ages
Gates open at: 4:30 p.m.
Show starts at: 6 p.m.
Tickets: All ages advance tickets are general admission and available now for $37.50 at all Safeway TicketsWest outlets, and online at TicketsWest.
Rebelution VIP Package, available now online at TicketsWest for $102.50, includes One (1) General Admission Ticket; One (1) Tour Poster, signed by Rebelution ; One (1) Rebelution Stainless Steel Water Bottle; and One (1) Commemorative Laminate and Lanyard. Please Note: There Is No Artist Involvement Included With This Package.
Unless sold out, tickets will also be available at the McDonald Theatre Box Office on the day of the show for $40 beginning at 3:30 p.m when the Box Office opens.
The general admission concert is open to everyone of all ages. All tickets subject to service charges and /or user fees.
Unfortunately, due to the COVID-19 pandemic, the Good Vibes Summer Tour at Cuthbert Amphitheater has been rescheduled to August 28, 2021. All previously purchased tickets will be honored for the rescheduled date. If you are unable to attend the new date, please reach out to your point of purchase for information on refunds and any questions regarding ticketing. Contact TicketsWest by phone at 1-800-992-TIXX(8499) or email customercare@ticketswest.com.
Fifteen years into an effervescent career, California reggae band and touring juggernaut Rebelution remains abundantly creative. Its members (singer/guitarist/lyricist Eric Rachmany, keyboardist Rory Carey, drummer Wesley Finley, and bassist Marley D. Williams) are as focused and committed as they are easygoing and laid-back. Free Rein, their sixth studio album, while still rooted in the Jamaican inspiration that Rebelution's songs and sounds have always paid homage to, takes experimental leaps and new adventures too, welcoming old fans and new audiences alike. Ever expanding, the Rebelution phenomenon continues to spread good vibes on tour, and in the studio.
Bearing witness to the accelerating negativity of global affairs, Steel Pulse emerges with musical vengeance to halt the disarray of humanity. The bands twelfth studio production, titled Mass Manipulation (Rootfire Cooperative), reflects four decades committed to bettering mankind through music. Steel Pulse continues to be revolutionary in engaging controversial topics of racial injustice and human rights on a global scale. Their musical stance and conceptualizations are as potent and relevant today as they were at the beginning of their career. The album's uniquely thematic approach provokes thought as it presses forward, toward humanities unification.