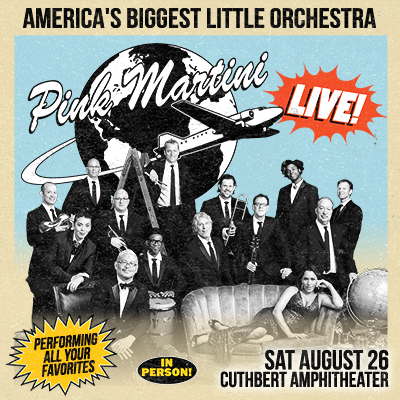 Produced by: Kesey Enterprises, Double Tee Concerts
Date: Saturday, August 26, 2023
Support: TBA
Event Type: Reserved Seating, General Admission Lawn, All Ages
Box Office Opens at: 4:30 pm
Gates Open at: 5:30 pm
Show Starts at: 7 pm

Tickets: All ages advance tickets are reserved seating for from $55 to $75 depending on seat location, and general admission lawn for $40, available Friday, March 3 at 10am online at Cascade Ticketing.
The general admission concert is open to everyone of all ages.
All tickets subject to service charges and /or user fees.
In 1994 in his hometown of Portland, Oregon, Thomas Lauderdale was working in politics, with the intention of eventually running for office. Like other eager politicians-in-training, he went to every political fundraiser under the sun… but was dismayed to find the music at these events underwhelming, lackluster, loud and un-neighborly. Drawing inspiration from music from all over the world – crossing genres of classical, jazz and old-fashioned pop – and hoping to appeal to conservatives and liberals alike, he founded the "little orchestra" Pink Martini in 1994 provide more beautiful and inclusive musical soundtracks for political fundraisers for causes such as civil rights, affordable housing, cleaning up the Willamette River, funding for libraries, public broadcasting, education and parks.
One year later, Lauderdale called China Forbes, a Harvard classmate who was living in New York City, and asked her to join Pink Martini. They began to write songs together. Their first song – "Sympathique" (Je ne veus pas travailler)- became an overnight sensation in France, was nominated for "Song of the Year" at France's Victoires de la Musique Awards, and to this day remains a mantra ("Je ne veux pas travailler" or "I don't want to work") for striking French workers.
In 2016, Pink Martini released its ninth studio album, Je dis oui!, which features vocals from China Forbes, Storm Large, Ari Shapiro, fashion guru Ikram Goldman, civil rights activist Kathleen Saadat, and Rufus Wainwright. The album's 15 tracks span eight languages (French, Farsi, Armenian, Portuguese, Arabic, Turkish, Xhosa and English), and affirms the band's 23-year history of global inclusivity and collaborative spirit. In 2018, Pink Martini released a special 20th Anniversary Edition of its first album Sympathique, featuring the band's iconic arrangement of Ravel's "Bolero", now in the public domain and finally reinstated on the album after a 20-year absence. In 2019, Thomas Lauderdale and members of Pink Martini collaborated on a new release with the international singing sensation Meow Meow. This album, Hotel Amour, features guest appearances by Rufus Wainwright, The von Trapps, Barry Humphries (of Dame Edna fame), and the inimitable late French pianist and composer, Michel Legrand. Also in 2019, Pink Martini released two 5-song EPs, each featuring a special guest singer who has been regularly touring with the band since late 2017. Bésame Mucho, with Edna Vazquez singing, features her original powerhouse "Sola Soy" alongside classic Spanish repertoire, like the title track, and "Quizás, quizás, quizás." Tomorrow features vocalist Jimmie Herrod, a finalist on 2021's season of NBC's America's Got Talent, on a soaring version of the title track (famous from the musical Annie) alongside other repertoire, including the single "Exodus" which has been bringing audiences to their feet at Pink Martini concerts. Both albums feature Pink Martini, and arrangements by bandleader Thomas Lauderdale. During their pandemic hiatus, in 2021, the band release two new digital singles written by Thomas Lauderdale, China Forbes, and producer Jim Bianco, "Let's Be Friends," and "The Lemonade Song," which already has nearly 8 million streams on Spotify alone. 
In 2022, the band is celebrating its 28th year of performing with its first full season of global touring since 2019, due to the disruptions brought about by the pandemic. The band is currently at work on a new studio album, due in late 2023, and Thomas Lauderdale and China Forbes will both release side project albums in the first half of 2023.