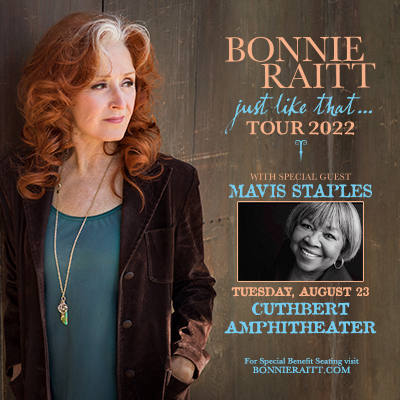 Produced by: KEI, Double Tee Concerts
Support: Mavis Staples
Date: Tuesday, August 23, 2022
Event type: Reserved Seating, General Admission Lawn, All Ages
Gates open at: 5:30 p.m.
Show starts at: 7 p.m.
Tickets: All ages advance tickets are reserved admission in front of the stage and general admission lawn and available now for $106 for reserved tickets in front of the stage, $81 for reserved tickets located just behind the first section, and $46 for general admission lawn online at TicketsWest.
Unless sold out, tickets will also be available at The Cuthbert Amphitheater Box Office on the day of the show beginning at 5:30 p.m. when the Box Office opens for $106 for reserved tickets in front of the stage, $81 for reserved tickets located just behind the first section, and $46 for general admission lawn.
The reserved seating, general admission lawn concert is open to everyone of all ages. 
All tickets subject to service charges and /or user fees. Ticket holders are requested to wear a face mask.
Long a critics' darling, singer/guitarist Bonnie Raitt did not begin to win the comparable commercial success due her until the release of the aptly titled 1989 blockbuster Nick of Time; her tenth album, it rocketed her into the mainstream consciousness nearly two decades after she first committed her unique blend of blues, rock, and R&B to vinyl. Born in Burbank, California, on November 8, 1949, she was the daughter of Broadway star John Raitt, best known for his starring performances in such smashes as Carousel and The Pajama Game. After picking up the guitar at the age of 12, Raitt felt an immediate affinity for the blues, and although she went off to attend Radcliffe in 1967, within two years she had dropped out to begin playing the Boston folk and blues club circuit. Signing with noted blues manager Dick Waterman, she was soon performing alongside the likes of idols including Howlin' Wolf, Sippie Wallace, and Mississippi Fred McDowell, and in time earned such a strong reputation that she was signed to Warner Bros.
"I'm the messenger," Mavis Staples says on the eve of her 80th birthday. "That's my job—it has been for my whole life—and I can't just give up while the struggle's still alive. We've got more work to do, so I'm going to keep on getting stronger and keep on delivering my message every single day."
Hailed by NPR as "one of America's defining voices of freedom and peace," Staples is the kind of once-in-a-generation artist whose impact on music and culture would be difficult to overstate. She's both a Blues and a Rock and Roll Hall of Famer; a civil rights icon; a GRAMMY Award-winner; a chart-topping soul/gospel/R&B pioneer; a National Arts Awards Lifetime Achievement recipient; and a Kennedy Center honoree. She marched with Dr. Martin Luther King, Jr., performed at John F. Kennedy's inauguration, and sang in Barack Obama's White House. She's collaborated with everyone from Prince and Bob Dylan to Arcade Fire and Hozier, blown away countless festivalgoers from Newport Folk and Glastonbury to Lollapalooza and Bonnaroo, performed with The Band at The Last Waltz, and graced the airwaves on Fallon, Colbert, Ellen, Austin City Limits, Jools Holland, the GRAMMYs, and more.