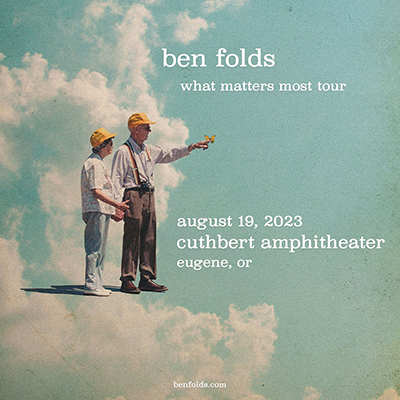 Produced by: Mammoth NW
Support: Tall Heights
Date: Saturday, August 19, 2023
Event Type: Reserved Seating, General Admission Lawn, All Ages
Box Office Opens at: 4:30 pm
Gates Open at: 5:30 pm
Show Starts at: 7 pm
Tickets: All ages advance tickets are reserved seating, general admission lawn and available Friday, February 17 at 10am for from $79 to $99 for reserved seating with price depending on location, and $39 for general admission lawn online at Cascade Ticketing.
Unless sold out, tickets will also be available at the The Cuthbert Amphitheater Box Office on the day of the show beginning at 4:30 p.m. when the Box Office opens.
The reserved seating, general admission lawn concert is open to everyone of all ages.
All tickets subject to service charges and /or user fees.
Ben Folds is widely regarded as one of the major music influencers of our generation.
He's created an enormous body of genre-bending music that includes pop albums with Ben Folds Five, multiple solo albums, and numerous collaborative records.
For over a decade he's performed with some of the world's greatest symphony orchestras, and currently serves as the first ever Artistic Advisor to the National Symphony Orchestra at the Kennedy Center.
Ben released his first book – a collection of interrelated essays, anecdotes and lessons about art, life and music – in 2019, which debuted as a New York Times Best Seller, and he hosted a podcast series spinoff of his book entitled "Lightning Bugs: Conversations with Ben Folds." In addition to solo rock and orchestral touring, he's also developing a new unscripted tv series with Fred Rogers Productions, continues to appear in various film/tv guest starring roles, and is working on two new albums.