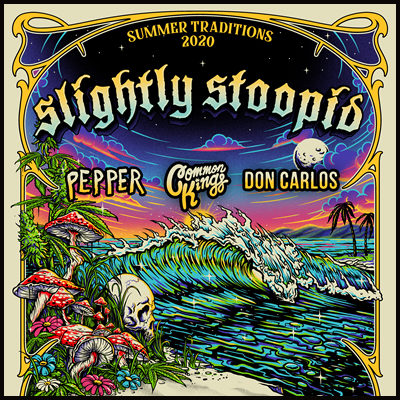 Produced by Kesey Enterprises, Double Tee Concerts
While we all go through these difficult times due to the global
COVID-19 pandemic, we are disappointed to announce that our Summer
Traditions 2020 Tour dates will be postponed till 2021. While this
decision was not made lightly, the safety of our crew, tour mates,
venue staff, and our fans remains the highest priority. We will
announce re-scheduled tour dates soon, and hope to see all of you
again when it's safe to do so.
All tickets purchased will remain valid for the rescheduled tour
dates, so we hope you hang on to them for when it is safe to all be
together again with our Stoopid family. If you prefer a refund, please
request refunds through your original point of purchase, as each venue
will have their own refund policy.
We are thankful for your love and understanding, and we look forward
to the day when we can all be reunited. In the meantime, we hope you
all stay safe and healthy, and that we can see you real soon…
ARTIST INFO:
An eclectic band when it comes to musical styles as well as collaborations, Slightly Stoopid continues to manufacture an energizing & multifaceted sound that has been described as "a spiritual bath of positive party energy.