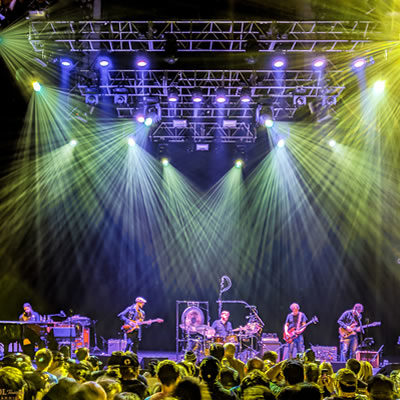 Produced by Kesey Enterprises, Double Tee Concerts
This event is ALL General Admission, open to all ages.
All Ages GA Advance Tickets are on sale now for $39.50 at all Safeway TicketsWest outlets, and online at TicketsWest. Tickets will cost $45 day of show, if still available. All ticketing options include a City of Eugene facility/parking fee.
Gates open at 5:30 p.m. Show starts at 7 p.m.
All tickets subject to service charges and /or user fees.
Drummer Joe Russo toured as one half of the Benevento/Russo Duo, as well recording and touring with a wide variety of other bands, including Cass McCombs, A Big Yes and a Small No, Fat Mama, Robert Walter's 20th Congress, Bustle In Your Hedgerow, Younger Brother, Shpongle, Tom Hamilton's American Babies, the Trey Anastasio/ Mike Gordon duo, the Gene Ween Band, and Furthur (featuring Phil Lesh and Bob Weir of the Grateful Dead). Russo also plays with the Shpongle Live Band. In 2013 he formed a Grateful Dead tribute band called Joe Russo's Almost Dead, performing mostly the music of the Grateful Dead. The band played their first show on January 26, 2013 at the Brooklyn Bowl in Brooklyn, NY. In addition to drummer Joe Russo, the band also includes Ween's bassist Dave Dreiwitz, keyboardist Marco Benevento, Scott Metzger on guitar and vocals, and American Babies' Tom Hamilton on guitar and vocals.